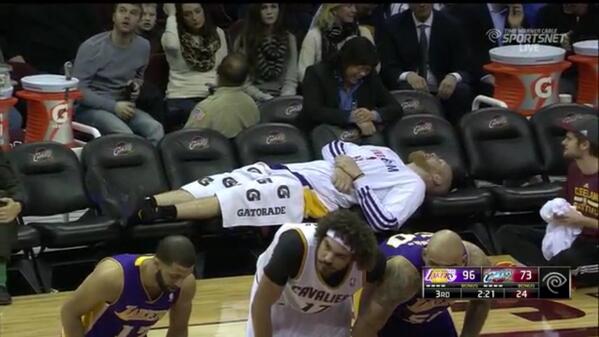 That photo says it all.
The Lakers ran out of players and still beat the Cavs by eleven last night. When they arrived in Cleveland, they only had eight healthy players.  They still built up a 19 point lead in the first quarter and shot over 70% from the floor. Four minutes in to the second quarter LA built up their lead to 29 points.
With 3:32 to go, the game turned bizarre. The NBA rulebook had to be consulted after Robert Sacre received his 6th foul which should have put him on the bench. But since the Lakers had no one else, Sacre could stay on the floor. The full rule is here:
RULE NO. 3-PLAYERS, SUBSTITUTES AND COACHES
Section I-Team
a. Each team shall consist of five players. No team may be reduced to less than five players. If a player in the game receives his sixth personal foul and all substitutes have already been disqualified, said player shall remain in the game and shall be charged with a personal and team foul. A technical foul also shall be assessed against his team. All subsequent personal fouls, including offensive fouls, shall be treated similarly. All players who have six or more personal fouls and remain in the game shall be treated similarly.
I don't know how much worse it can get for the Cavs. The February 20 trade deadline is looming and we can almost anticipate a move to be made.  The Luol Deng trade was supposed to be the last piece to this puzzle, helping to push the Cavs into the playoffs. Instead, things seemed to have gotten worse.
Moving Dion Waiters seems to be the obvious choice for the Cavs front office. We've heard about his arguments with team members and his dismissal from practice. One option for Waiters is with the Milwaukee Bucks for 29 year old Gary Neal. He's most remembered for Game 3 of last year's NBA Finals, but could still be a good option off the bench.